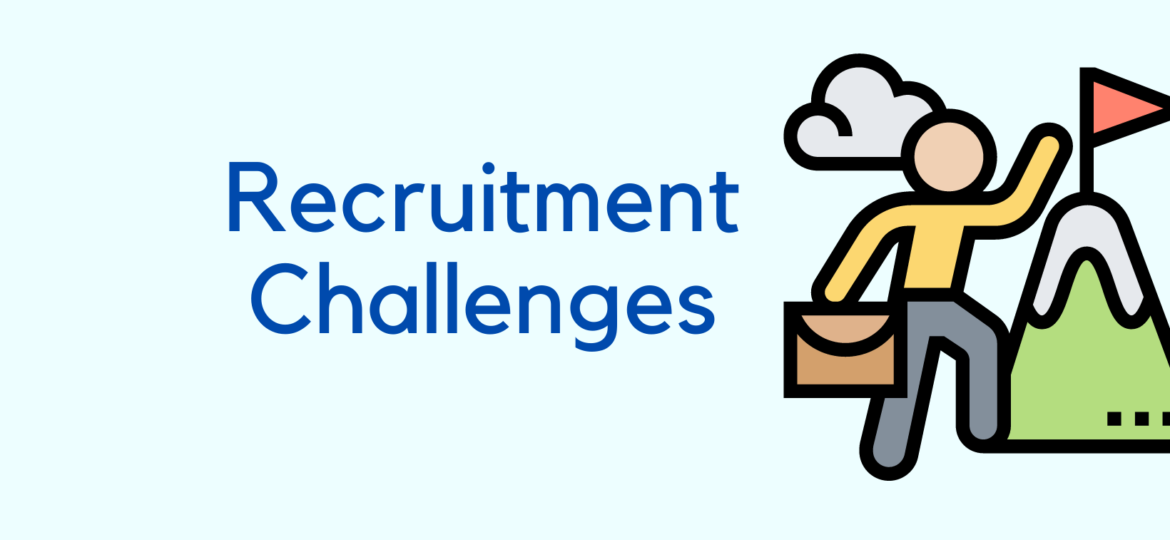 8 Common Recruitment Challenges Faced by Recruiters During the Hiring Process
As a recruiter, his task is to find the top talents for the opened vacancies by streamlining the recruiting process. Working as a recruiter is both exciting and challenging. The recruitment challenges may vary depending on the nature, scope, and size of the organization you work for, as well as the types of positions you're recruiting for. However, understanding the major recruitment challenges is essential when developing a strategy to address these difficulties.  
What happens when you reach a hurdle and realize you can't find qualified candidates for the positions you're looking to fill? In this article we are elaborating on the recruitment challenges and we will give you some specific ideas to tackle recruitment challenges that may arise during your hiring process. So, let's focus on common recruitment challenges you may have to face in your hiring process; 
1. A

ttracting and choosing the top talents
One of the most significant recruitment challenges is the talent shortage. It's due to the fierce competition for top talent and mismatch between talent demand and supply. A scarcity of qualified personnel is a major roadblock to business expansion. But It is really important for the recruiter to locate and attract top talent for their organization. 
According to LinkedIn research findings (business.linkedin.com), at any given time, 30% of the global workforce is looking for employment, but almost all of the remaining 70% would consider changing jobs if a better opportunity presented itself. Since passive candidates are not actively checking for a job, as a recruiter you need to find and reach them. A consistent social media presence, particularly on LinkedIn, is required to ensure that passive talent is aware of your employer brand. You can participate in recruitment activities, events such as job fairs, meetups to reach prospective applicants. 
So, in order to find such rare hidden top talents, you need to find a way to broaden your candidate pool. Filling your talent pool with people who are interested in working for your organization ahead of time would help you fill job openings in less time and with fewer resources. It is important to spell out the job criteria and qualifications clearly in the job description so that initially applicants can better self-select. That would assist you in identifying the most promising and appropriate candidates. So, using the best practices will ensure that you choose the top talent for your open role and company culture and overcome one of this major recruitment challenges. 
2. Remote hiring

 
Remote hiring and working have become more commonplace as a result of the COVID 19 pandemic. Recruiters also have turned to work-from-home. Adapting to the method of recruiting someone who is not geographically situated near you has become a major recruitment challenge in today's world. Because it raises a range of strategic concerns. There you need a more rigorous approach to test the candidates and maintain more interactivity with your candidates. Since this isn't going to be a temporary solution, you'll need to strengthen your remote hiring method. 
Although it is a common practice, recruiters face recruitment challenges because the applicant will not be present in the same room as face-to-face interviews in conventional methods. As well as employers are facing practical difficulties like conducting technical tests, communicating cultural values and conducting interactive interviews, and maintaining the effectiveness of the hiring process. 
As a result, the technological leap needed to close this gap has been enormous. Modern software, technology, and tools will be a viable choice for effectively overcoming these recruitment challenges. Tools like applicant tracking systems, zoom, and Microsoft teams can help you retain interactivity and solve real challenges in remote recruiting.  
3. Building a positive employer brand and assessing candidate's cultural fit
Candidates also judge you as an employer while you evaluate your candidates during the hiring process. So, similar to developing a strong customer-facing brand, is it critical to develop a strong and positive employer brand for the company. However, in today's competitive job market, developing a good employer brand will be a major recruitment challenge and recruiters needs to handle it properly. Otherwise, there is a high risk of losing the top talents for rivals.
If employees and applicants who have been through your hiring process have nothing but negative things to say about the company, you'll have a difficult time attracting and hiring new top talent. Your employer's image would be harmed by their pessimistic outlook. Also, you are less likely to find qualified applicants if the candidates have never heard of the business and does not have a large online presence. 
Therefore, you must develop and execute an effective employer branding plan. In order to do that you should preserve openness while showcasing the company's ethos and employee excitement. So, it is beneficial to improve the employer's brand and demonstrates why your business is a great place to work. 
Finding employees who are compatible with your company's values, culture, and "personality" is one of the difficult recruitment challenges. Companies that do not take cultural fit into account may find that their employees leave or are dismissed within a shorter period of time. So, it is really important to first understand the company's culture and then work towards to develop the employer brand. 
4. Assuring effective hiring team collaboration

 
In today's recruitment, collaborative hiring has become a significant theme. Executives, hiring managers, recruiters, technical experts, and others should collaborate effectively in the hiring process. Seeking a more efficient way to execute a collaborative hiring process is the real challenge. There are several recruitment issues that must be identified and overcome in order to succeed in the hiring process. Such as maintaining engagement among the hiring team throughout the process, effective communication, and managing all records. Furthermore, with an increasing number of people operating remotely from all over the world, maintaining successful team coordination is becoming increasingly difficult.  
In order to face these kinds of recruitment challenges, you should have a better understanding of the hiring requirements, hiring capacity and resources available. With the right collaborative recruiting strategies in place, you will be able to find top talents through better, collaborative hiring decisions.  
5. Managing large data amount in your hiring process

 
Another difficult task in the hiring process is handling a vast volume of data such as Candidates' CVs, interview records and other documents in recruiting. More than ever before, relying on information is more important now. With the growing complexities of recruiting, the hiring team must concentrate on handling a large volume of data and making decisions based on sound hiring analytics. Because, there is a chance of data misplacement, abuse, and incorrect decisions if you don't have a proper data management platform. Handling data properly will help you to get the full benefit of recruitment analytics. Also, it is crucial to have a data-driven, knowledgeable HR team about recruiting analytics. Otherwise, you will be squandering a chance to aid your business gain a market edge as a successful employer. 
You must monitor and calculate key recruitment metrics in order to get a better idea of the entire recruiting process. By concentrating on data-based performance, you will be able to make smarter and more accurate hiring decisions, as well as increase your efficiency and performance. In order to overcome this kind of recruitment challenges your recruiting team should adopt a data-driven mindset and you can choose an appropriate platform such as a recruitment management software for securely managing all of your data and records effectively.  
6. Delayed Recruitment Process

 
Slow decision-making and inadequate post-interview communication in a highly competitive business can lead to candidates moving on to other chances, being picked up by competitors, or even rejecting an offer based on their candidate experience with your company. The longer you hesitate to complete your hiring process, the more likely it is that your top candidate will be snatched up by a competitor.  
The longer the recruitment process takes, the more stress your team will be under. This is especially true if you need to fill the position immediately, as it puts a bigger strain on your current employees. This specific recruitment challenge not only causes employee dissatisfaction, but it may also cause product delivery delays or incur significant outsourcing fees in order to maintain productivity while you search for suitable employees. 
 An applicant tracking system (ATS) can help you manage all stages of the employment process more efficiently. Recruiters can also utilize the ATS to automate the majority of their activities, such as sending emails, prepare records, generating analytics, etc. As a result, you will be able to overcome this kind of recruitment challenges by saving lot of time in the recruitment process. 
7. Overcoming Unconscious Bias

 
Unconscious biases are societal stereotypes regarding particular groups of people that people form without even realizing it. This is one of the common recruitment challenges faced by recruiters. Unconscious bias is happening if you favor one candidate over another just because the first one appears to be someone, you'd be comfortable hanging out with outside of work. Biases can also lead to people preferring one candidate over another because they have personal attributes they like or identify with, or rejecting them as candidates because they don't. It is unfair and unethical to discriminate against any job applicant or candidate on the basis of their race, color, religion, age, gender and many other factors. It's human nature for each of us to have our own unconscious biases. However, it can be a hurdle when it comes to attracting the greatest fresh personnel for your organization. Hiring the wrong person as a result of a biased judgment can result in higher employee turnover.  
Make your interviewing process more standardized. Make sure you ask all candidates the same questions. Then, using the same criteria, you may compare them and choose the best candidates rather than the most likable. You should also give your recruiters and HR managers diversity training so that they may understand how to avoid bias in the hiring process. Finally, utilize an Applicant Tracking System and a variety of evaluation strategies to overcome this kind of recruitment challenges. 
8. Providing a Good Candidate Experience

 
Candidates must feel connected to the employer during the hiring process in order to establish better relationships and a stronger brand reputation. If you don't make a candidate, feel appreciated or involved, they may reject your offer or choose for a competitor who looks to be more interested. This is especially critical when headhunting applicants who expect your company to persuade them to leave their current job.  
A negative applicant experience might harm your company's market reputation and undermine your employer brand in the long run. Poor recruiting practices can make it more difficult to recruit great people in the future. In addition, independent review sites like Glassdoor allow potential candidates to provide precise comments on your team's evaluation methods, which may discourage future applications. 
With the help of a recruitment management software like HireTrace, you can ensure that candidates can easily apply for employment at your company without any hassle. Candidates are more likely to finish an application if it is made simple for them. Having a positive candidate experience will be beneficial. Also, with the help of tools such as ATS and recruitment management software, you will be able to overcome these types of recruitment challenges.  
Conclusion
In today's complex job market, finding the top talents at the right time for the exact position becomes more challenging. Attracting and choosing top talent is on the top of the recruitment challenges. With the current situation of Covid-19, remote hiring has also become popular and most recruiters find it difficult to handle them. Building a positive employer brand and assessing a candidates' cultural fit is one of the recruitment challenges that we used to consider when choosing the right fit. Assuring effective hiring team collaboration, managing large data, Delayed recruitment process, overcoming unconscious bias and providing good a candidate experience are other major recruitment challenges that recruiters have to face in any industry. By identifying the above-mentioned recruitment challenges, following the tips we have shared with you, and using advanced new HR tools and technologies you will be able to face those recruitment challenges successfully. So, it is time for recruitment strategies to catch up. Ensure to catch all of your ideal candidates, Tackle all your challenges in your hiring process!