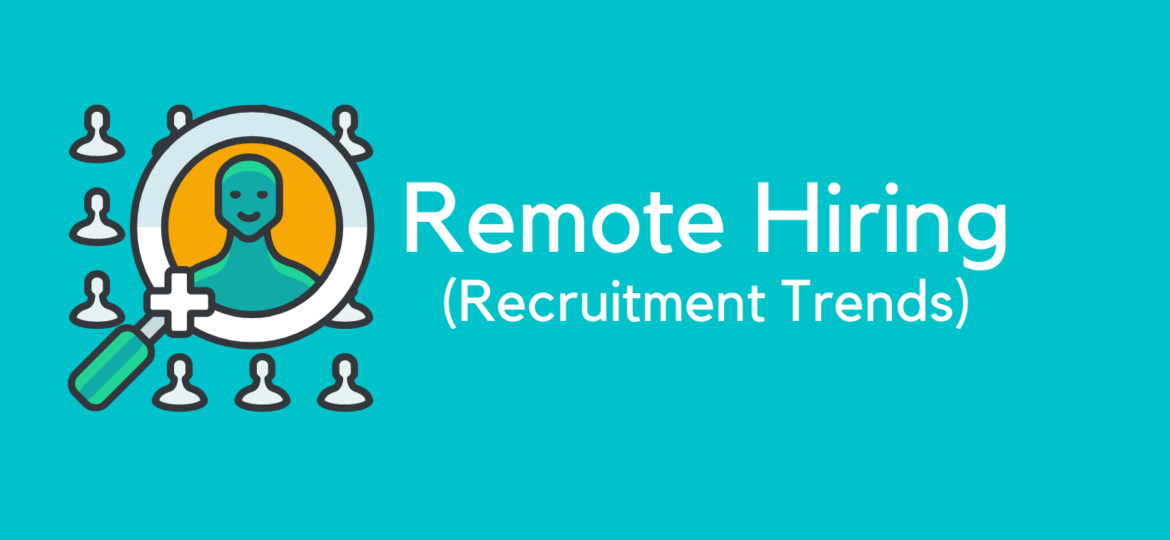 Remote Hiring Tips, Essential Guide for Future Recruitment
Today, most of the companies who are looking to fill their positions are willing to remote hiring. And it has become the best solution for locating potential candidates for your company.
What is remote hiring?
In a nutshell, remote hiring is the method of hiring someone who is not physically located near you. The recruiting process can be completed entirely online without the need for the recruiters and the candidates to meet in person. It includes using technology to locate, screen, interview, and recruit remote workers from various locations.
Today, COVID 19 pandemic has accelerated future trends and remote hiring has become the new normal. Even after the pandemic, almost every corporation is preparing to recruit more remote employees because of the advantages of remote hiring.
Why is remote hiring becoming more popular?
Hiring a remote workforce has numerous benefits for a company. Some of the benefits of facilitating remote hiring are as follows:
Easier access to a wide talent pool
Remote hiring gives you access to a larger, more diverse, and high-quality pool of talent from all over the world and across time zones.
Enhance the efficiency of the recruiting process
Unlike the conventional recruitment method, you can increase efficiency and effectiveness while reducing the risk of losing candidates by avoiding delays.
Reduces business costs 
By emphasizing remote hiring, you can save the cost, which includes the company's operating costs.
Save time & your hiring efforts
In remote hiring, with the ability to eliminate the delays and pursuing to mostly use the technologies, both recruiters and candidates can save time & their hiring efforts.
Many businesses already realize that remote hiring is one of the major future recruiting trends and that there are numerous advantages to reap if it is introduced.
What would be the future recruiting?
In the aftermath of the global crisis and pandemic situations, many global companies are adopting key elements of the recruiting process, reviewing HR strategies, and investing in appropriate technology to incorporate effective remote hiring processes.
Since March 2020, growth in remote job posting by countries has increased considerably with the pandemic. It makes sense of successful remote hiring.
When considering remote hiring, it's important to get a sense of working remotely.
According to an internal survey of Glassdoor's, the majority of employees prefer hybrid work arrangements.
When asked what their ideal job situation would be post-COVID-19, 70.1% of Glassdoor workers said they would like to work from home and in a local office. Just 26.4% said they'd prefer only remote work, and only 3.5% said they'd prefer to move to an office. (glassdoor.com)
However, 81% of talent professionals agree virtual recruiting will continue post-COVID. And 70%  of talent professionals agree virtual recruiting will become the new standard.
This is why future recruiting trends would be a key factor to consider in business planning.
Importance of preparing future recruiting trends
Regardless of industry, businesses of all sizes are taking advantage of emerging technology that enables employees to remote hiring and remote working.
As a result of advancements in communication technologies and access to the internet, the job market is also getting more complex rapidly. Therefore, identifying the future recruiting trends that will influence how remote hiring is done is crucial for success.
Adapting effective future recruiting trends in advance will help you to find the best talent and make your business to be a success in future.
So, as a company to survive in the industry and take competitive advantages, must adapt to this transformation, and the faster they do so, the greater the outcomes will be.
Tips for employers to take benefits from remote hiring
While it is a popular procedure, many business owners are wary of it because the candidate would not be in the same room as the traditional way.  This may be the most challenging challenge.
Since you can't see the candidates, you'll need a more robust method to evaluate them. 
So, let's take a look at some effective tips and methods that can help you to improve your remote hiring process;
1. Make sure with clear job description, candidate profile and Optimized job ad
When recruiting remotely, you must be specific about the job description. You should include your remote policies and carefully understand what you're looking for. 
Because a candidate's personality plays an important role in recruiting, you should pay more attention to defining the set of skills and characteristics you're looking for in a candidate when recruiting remotely.
Additionally, you should provide adequate details mentioning your remote culture and company background in your job ad. An effective job ad can begin you towards successful remote recruiting.
2. Effectively manage time zones for your remote hiring
Managing time zones will be one of the challenges when remote hiring as you have to deal with candidates from different time zones.
Therefore, you should find an effective way to schedule your video interviews and group meetings in the remote hiring process.
3. Manage remote communication
Not only spoken voice, tone but body language are also vital factors to consider when recruiting. That's why when remote hiring you should choose a better interactive method when communicating.
And diversity and language issues also should be addressed.
In addition you should have an effective communication method among candidates and your hiring team. For instance; an automated email system, real-time confirmations, updates and reminders.
4. Follow a well-structured remote hiring approach and strategies
Implementing structured hiring would streamline your hiring process and make remote hiring easy for; effective reviews, tracking applicants, identifying the ideal candidate, avoiding wrong and biased hiring decisions.
5. Effective review processes
Effective shortlisting processes- It is important to have an effective way to shortlist the best-suited candidates from the large pool in your remote hiring process.

Effective and interactive interviews- Video interviewing is widely considered the backbone of remote hiring. Effective and interactive interviews will affect the success of remote hiring. Therefore, when conducting video interviews, it is important to adhere to best practices.

Assessment stages-You should consider the knowledge of the sector and additionally consider testing their capacity since they may be working outside the confines of the workplace. In remote hiring, you can create customized evaluation steps as needed. And should have a proper way to guide them for each stage.
6. Make prioritize collaborative hiring
Collaborative recruiting is also one of the major recruiting trends. You can implement hiring team collaboration as a selection strategy that includes all HR and other department teams in the recruitment process. 
Collaboration of your better hiring team will benefit you to; effective reviews, take better hiring decisions and succeed in the remote onboarding process.
7. Ensure privacy of data 
Remote hiring is not a really successful recruiting trend without high data security as today's candidates are expected.
So, choose better tools and techniques that allow for remote hiring while maintaining high data security.
8. Consider the hidden costs of remote hiring 
Remember to consider the complications and time you may have to pay on managing remote hiring among different states and broader areas.
The guide of effective remote hiring would be incomplete without mentioning Applicant Tracking Systems.  To meet all your unique hiring needs and to streamline your entire hiring process you can choose an applicant tracking system.
However, employers should be mindful that remote hiring is subject to its own collection of unique hiring practices, hiring needs, and regulations.
Conclusion
For many of us, remote hiring is no longer just a concept, it is now a reality. Many organizations have already adopted remote hiring, and others can learn from their experience. In essence, remote hiring will undoubtedly continue to play an important role in the global professional landscape. As a recruiter, it is essential to focus on your capabilities, hiring needs, efforts, future recruiting trends and emerging markets.