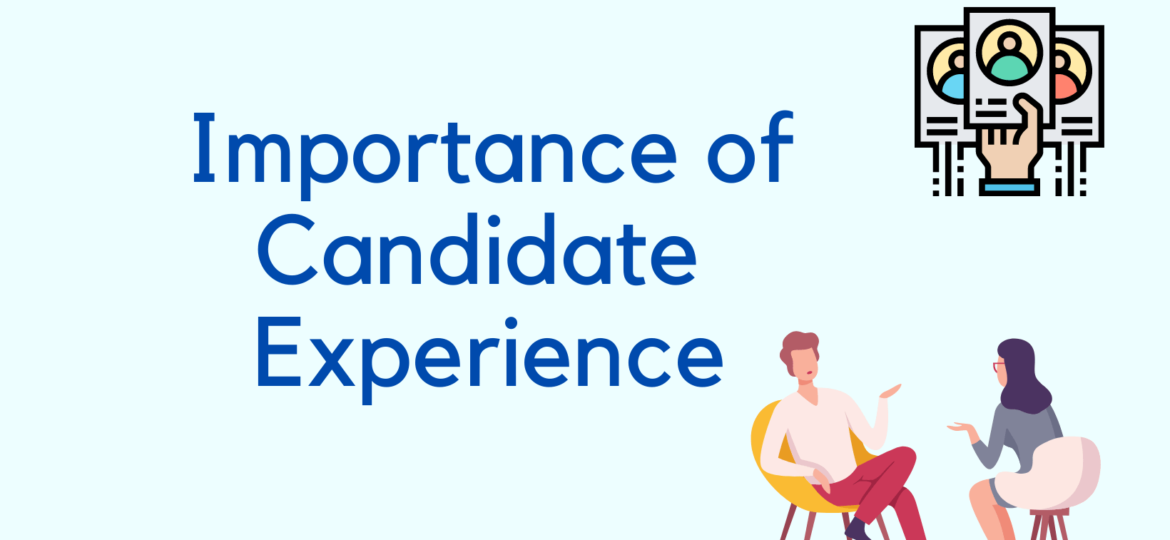 Why is candidate experience more important in recruiting?
Today recruiting is more candidate-driven than it has ever been. As such, it's no secret that providing a better applicant experience during the hiring process will help you attract top talent. We'll discuss why it is important and how companies can boost their candidate experience to gain a competitive edge.
We'll discuss why it is important and how companies can boost their candidate experience to gain a competitive edge.
What is candidate experience?
In short, the candidate experience is a job seeker's impression of a potential employer. It's the sum of all the interactions and engagements with applicants during your recruiting from the initial job search to the application process, the interview, and the onboarding process. That's why improving your candidate experience is related to an efficient hiring process.
Importance of improving candidate experience in your recruiting
The way you handle your candidates will have a big impact on your company and your talent pool. By offering a positive candidate experience, organizations will gain candidates' confidence and loyalty.
Just imagine, if you spent several weeks on the recruitment process and have filtered a specific candidate as the best fit for your team. However, they decline your request. What is the reason for this? They can leave a negative impression on you or have had a bad candidate experience. Definitely, that would badly affect your organization.
Top candidates expect memorable encounters both before and after the interview process. These satisfied candidates can become a reason for the success of the organization.
So, let's explore some of the major benefits of having a positive candidate experience in your recruiting.
Attract more dedicated and high-quality talent
Attracting top talent is your goal. But quality candidates have high bargaining power. If your candidate has a positive experience with your company's recruiting process, they are far more likely to accept the job.
Then they will join with you, with the best first impression. And because of having a good impression of their employer, they will be more involved and dedicated.
On the other hand, an unnecessarily complicated recruiting process can push the best applicants away. A poor interview experience causes 65% of applicants to lose interest in the job. (business.linkedin.com)
Improve a stronger employer brand
The best candidate experience would improve the company's employer credibility. Then organizations may differentiate themselves as an employer of choice in their sector by building a stronger employer brand.
Because candidates who have had a positive experience with your recruiting process, whether or not they are selected, will have a positive view of the business. That will cause you, refer others to the business, reapply for the same company in the future and then grow your talent pool.
Reduce your cost per hire and time to hire
When focusing on candidate experience, you can boost efficiencies and lower costs by involving a stronger recruiting team and concentrating on the touchpoints of the recruiting process that matter, as well as using technology as an enabler.
You won't have to repeat the process if you recruit top talent quickly and increase candidate retention. Then you can save money, time, and effort in the recruiting process.
Generate more referrals
You can find top skills more quickly if you develop the right culture and provide candidates with the best experience with the tools to easily suggest and refer.
Not only about the candidates who have first-hand experience. It is vital what your candidates tell their peers, families, and coworkers about you. Likely, candidates who have the best experience will recommend you on their social networks.
Candidate experience as marketing opportunities
Having a positive candidate experience is not only on your employer brand but also affects your customer brand and the bottom line of your business. A memorable, positive candidate experience is a valuable asset to the business. There is a higher possibility that a candidate will stick with the company and more likely to have more purchases with the company.
Candidate experience affects to enhance your brand awareness. So, candidate experience can cause them to decide whether to stay with the business or become a new customer or go elsewhere.
So, don't think simply about the impact of a bad candidate experience on your company.  As an incident, bad candidate experience cost Virgin media $5M annually. (business.linkedin.com)
How to improve your candidate experience through efficient hiring
As we discussed, every point during your recruiting process may affect candidate experience. As a result, efficient hiring and candidate experience are inextricably linked.
Many candidate experiences are facilitated by technology, such as the career site, work listings, and social media interactions. Emails and interviews, on the other hand, are more intimate. So, without being tech-savvy, efficient hiring is impossible these days.
You should concentrate on the main touchpoints during your recruiting that can make or break the candidate experience.
The first step in enhancing your candidate experience is to measure and analyze the current candidate experience.
Through their feedback, you'll be able to figure out which aspects of your method need to be improved or changed in order to avoid negative candidate experiences and improve the best candidate experience.
Create an attractive and candidate friendly employee value proposition (EVP) and provide a well-detailed job description.
Ensure that a job description is provided that includes future employee job responsibilities, accurate job duties, salary range, benefits, your company culture and background.
Improve your career site and make the shorter and simple application process.
Candidates will visit your career site often. It should be well organized, attractive, information-rich, and straightforward. Be sure to avoid a lengthy and complicated application process by focusing only on appropriate and critical details.
Take the optimum time for the recruiting process. Not too long or too short.
Make sure you have efficient and reliable review phases while you're hiring. Both unnecessary and time-consuming steps should be avoided. If your recruitment process is too lengthy, you have a risk of losing your best candidates by moving them to another organization while you are wasting time.
And being too short means not devoting enough time to the best reviews. That's why it's critical to devote sufficient and optimal time to your hiring.
Communicate frequently as necessary and keep a positive relationship.
Make sure you're communicating properly with your candidates. Provide them with regular updates on your progress. Since a lack of responses has the potential to cause your candidates to become frustrated.
Be open and honest about the hiring process and always respect your candidates and their time.
It will help to minimize their frustrations, suspicions, and uncertainty if they have a clear understanding of the employer's expectations and method. 
So, make sure the candidate has a good understanding of the situation. By respecting them, you will instil trust in their minds. Consider their precious time, for instance, you can begin interviews without delay.
Make sure to take feedback from candidates and provide feedback for them.
You should have a mechanism in place for collecting feedback and sending feedback on a regular basis. You may conduct a candidate survey at the during or end of the process, as well as look at their social media comments.
If they are chosen or not, the majority of candidates are willing to receive feedback. On the other hand, their suggestions will assist you in improving future candidate experiences.
By implementing the efficient hiring process by integrating effective CV reviews, simple scheduling, automatic communications, and interactive interview methods, you can accomplish all those touchpoints to ultimately achieve a positive candidate experience.
By making the recruiting process more efficient by using the right methods and strategies, you can enhance the candidate experience.
You can take a step to improve your candidate experience, with the right applicant tracking system like HireTrace. Best ATS tools will help you to implement the best practices for efficient hiring.
Final thoughts
Whether or not you move on offering them a job, ensure that candidates for jobs in your company treat well and have a good overall experience. It is extremely beneficial to your business. There are numerous benefits of having a positive candidate experience. 
You can boost your candidate experience by efficient hiring. Every phase you take in your recruiting has an effect on the candidate experience. You can make efficient hiring in your organization with the right tools and techniques.
So, keep in mind! When you're looking for the best candidates, they also screening you as an employer.