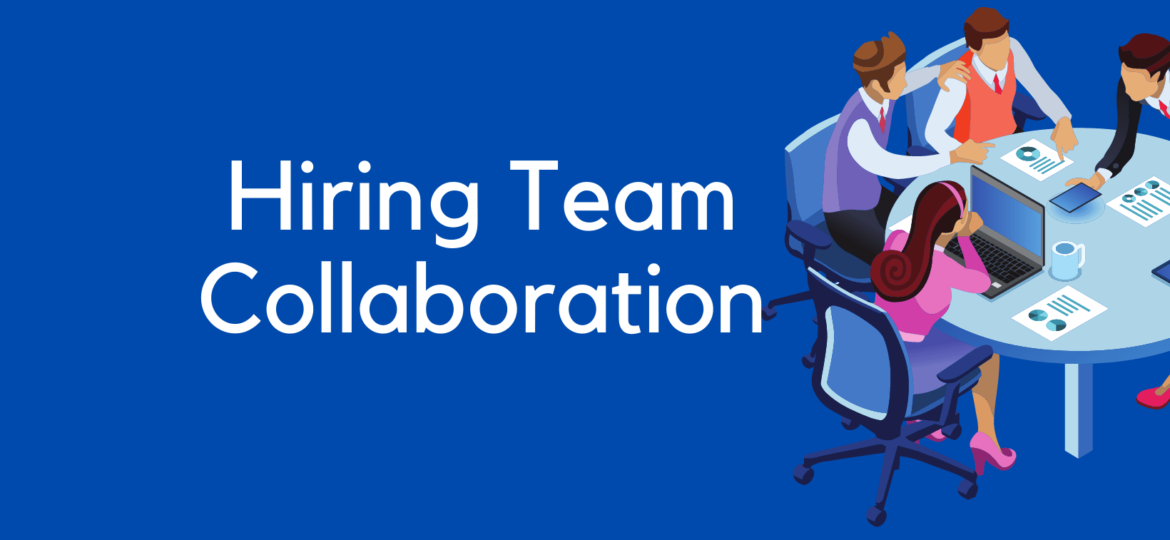 The Importance Of Hiring Team Collaboration During Your Recruiting Process
Without a doubt, as a good recruiter, you've already made the decision to improve better collaboration among your hiring team. Many recruiters who are having difficulty handling their hiring teams are now trying to introduce better collaborative hiring strategies into their recruiting practices.
We hope that by reading this article, you will be more conscious of collaborative hiring and will be able to reap multiple benefits for your company.
What is collaborative hiring?
Collaborative hiring is a team-based hiring strategy that organizes the recruitment process to get the help of colleagues from other departments.
Each company's hiring team may consist of a unique and different number of people. So, your hiring team may be involved in the recruitment process during the interview processes, screening, shortlisting, filtering, and selection stage and other necessary stages.
As a significant change in recruitment, the recruiting process has evolved to become more collaborative in recent years.
How collaborative hiring helps to improve your recruitment process?
When we hire someone, even if they are going to be in marketing, I will have them talk to the design folks and the engineers -Steve Jobs
He also believed in hiring collaboratively (wallstreetinsanity.com). So, today most of the leading corporations including Apple, Google have already adopted this collaborative hiring model.
Sometimes it may seem that implementing a collaborative hiring culture is more challenging, but collaborative hiring can give numerous benefits for your whole organization performance. 
Collaborative hiring will improve your hiring decisions and have a positive impact on your company culture.
Although recruiting looks different from company to company, collaborative hiring is capable of giving numerous benefits for any organization;
Reducing the recruiter's workload
Rather than being exclusively the responsibility of one person, recruiting becomes a team effort, which can lead to lower levels of stress among recruiters and help to reduce their workloads.
Eliminating unconscious bias
Team-based recruiting is a perfect solution for limiting the effect of implicit bias because of the openness that the collaborative hiring process provides, and bias knowledge.
Reducing the time of recruiting
The ability to involve a number of right members and sharing the responsibility of interviewing, assessing, and evaluating candidates among the team can significantly reduce the time. You will speed up the recruitment process by properly organizing the process.
Improving candidate experience
Well managed and shared responsibilities will streamline your recruitment process. Your team members will be personally responsible for their own duty in recruiting. Then positive experience among your candidates will automatically arise. Such as through the well-prepared interviews, more attention on each candidate and quick responses.
Improving employee engagement
Collaborative hiring is a perfect way to inspire your workers and improve their commitment, as well as sending a message to them that you respect their expertise and values. So, rather than making hiring decisions based on a single point of view, collaborative feedback would be helpful for better hiring decisions and better onboarding. Then as a recruiter, your ultimate goal of improving the quality of hire can be easily accomplished by collaborative hiring decisions.
Challenges of collaborative hiring
Although collaborative hiring has many advantages, it also has some obstacles that must be recognized and resolved in order to successfully recruit as a team.
Less engagement within the hiring team
There may be some team members who contribute less. It's likely that their excitement would decrease over time because they'll be tired of engaging in complex recruiting. So finding a user-friendly platform is essential for actively participating in reviews.
Handling communication between the hiring team
Managing communication between the hiring team can be difficult. You must give them updates from time to time during the recruitment process. Such as; inviting them to review CVs and interviews, remembering to notify them when rescheduling interviews and it is essential to take their confirmation for participating in interviews.
Problem of groupthink
It's true that for better collaboration, we should have groupthink. But as a team, there may be a range of opinions and perspectives. When offering feedback on candidates, this may be a concern.
As a solution, when providing effective feedback, you should concentrate on pre-defined candidate assessment requirements for each hiring stage as a team. And also there should be a way for them to comment independently about their own candidate reviews.
Managing all feedback and records
One of the most difficult tasks would be managing the feedback from the hiring team. If there is no easy way to manage all collaborative scores and comments, it will not give you a better idea.
Maintaining the confidentiality of the process
When several members are involved in the recruiting process, ensuring data protection is also a challenge. In that case, extra care is needed to protect the candidates' confidentiality.
The way to make better hiring team collaboration
Sometimes you may feel it as a challenge that needs a considerable amount of time and effort. But hiring team collaboration will certainly be a factor in hiring success.  Let's look at what are some ways that strengthen your hiring team collaboration
Define your unique hiring needs and guidelines
First and foremost, you must decide your unique hiring needs and goals. Then you can create simple guidelines for collaborating during your recruitment process.
You should be sure that everyone on the hiring team is aware of their roles and what is required of them. It is necessary to update your guidelines as needed and maintain effective communication with your hiring team for better understanding.
Build a better hiring team and train them
Building your hiring team should be a priority for you. You should choose the best and most appropriate members for your hiring team with consideration. Then it is essential to train and educate them about best practices in the recruitment process.
Involve the right person at the right review stage
For instance, the hiring process can be divided into several phases, each with its own set of evaluation criteria. You can involve HR experts when shortlisting candidates from the HR review level. If you're going to assess technical abilities, you'll need to choose an expert technical person for that stage.
Similarly, you should correctly classify the person who should be involved with the stage based on the vacant role.
Because one of the most common mistakes made by recruiters is not getting a good understanding of who should be involved at what point in the review process.
Manage all collaborative feedback in one platform
It will be difficult to gather all member feedback without the best platform which can facilitate your hiring team collaboration, and it will be difficult to take the overall idea on your candidates. As a result, it could have a negative impact on hiring decisions.  Therefore, finding a better way to handle all collaborative records in one platform is critical.
Use the right tools-choose a better ATS system
You can improve the efficiency of your recruitment process by using the right tools and technologies to promote collaborative hiring.
By choosing the best tools, you'll be able to manage permissions of the team members, share candidate information with them, manage all feedback on one platform, handle communication, while controlling who has access to what information. For instance, you can explore how the best Applicant Tracking System like HireTrace can assist you in establishing a more collaborative recruitment process.
Conclusion
In the current world, the difficulty of recruitment has also increased as industry rivalry has become more intense. Through effective collaborative hiring, you can balance the recruiting scales. So, correct collaborative hiring strategies would enable you to bring in high-quality applicants who will make all of your hiring efforts worthwhile and you can fully turn your whole organization for success.