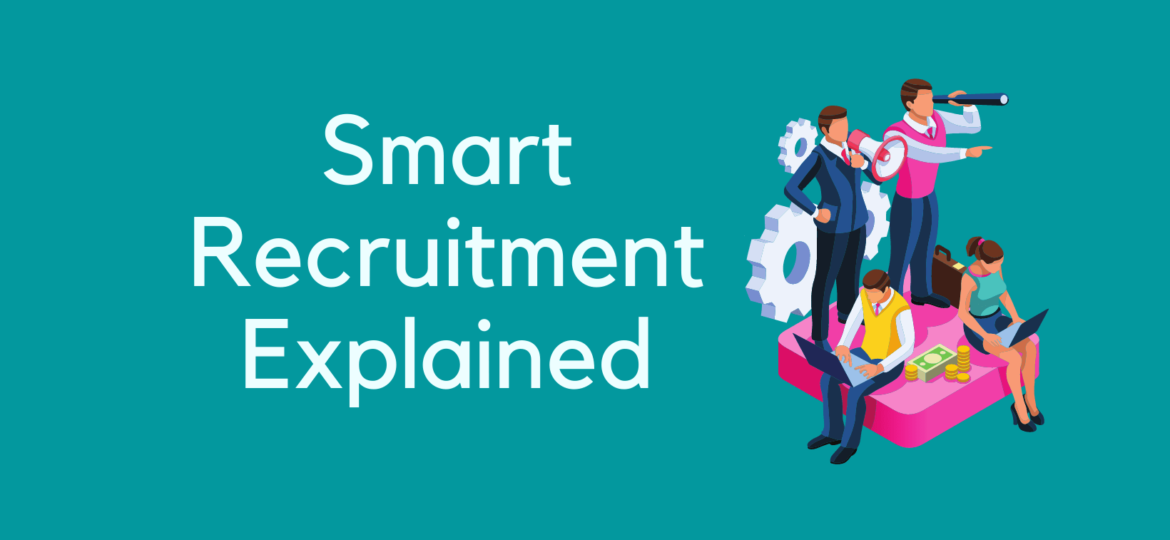 Smart Recruitment Explained for Smart Recruiters
Recruitment is always a tedious process for many organizations because everyday recruiters are flooded with thousands of resumes for various jobs advertised. So, it's really hard to maintain the quality of the process. However, there are some new smart trends coming up to make this process easier and reliable. In this article, we are planning to talk about these SMART RECRUITMENT practices and how you can utilize them to improve your company's overall recruitment process. 
Focusing on smart recruitment, it is a hiring strategy that helps you avoid many of the disadvantages of traditional recruiting practices and fill your vacancies much faster with the help of technology.  
Here we'll discuss what smart recruitment is, As well as the benefits of it and see how it supports enhancing your overall recruitment process
What is Smart Recruitment ?
In short, smart recruitment is a concept of attracting and retaining the right talent for the required positions within a company. And mostly it is all about utilizing modern technological advancements to support the recruitment process from different angles. This concept has an excellent systematic approach in finding, screening, and persuading the best talent to join your team. Due to that, the recruiting industry has transformed into a competitive market over the last two to three years. On the other hand, there is a competitive need for quality manpower and the companies are continuously overwhelmed with finding the top talent.  
Key Smart Recruitment trends
Usage of these smart recruiting tactics can significantly improve the recruiting process of any business. Especially, during the Covid-19 pandemic, these smart approaches became more helpful for the survival of many businesses. So, let's talk about it one by one. Here's the list of 8 top smart recruiting strategies to implement,  
Remote interviewing
One of the most recent trends that have appeared in the recruitment sector is remote interviewing. Due to the Covid-19 pandemic, nearly 98% of workers need to have the option of remote work. Therefore, recruiters are forced to conduct the entire interview process remotely where other parties like candidates, interviewers can participate easily.   
There are two main activities involved in remote interviewing; interview scheduling and conducting online video interviews. To schedule interviews, a number of Interview scheduling tools and software were introduced to guarantee a smooth, reliable process to make it easier for both the candidate and the recruiters. Such as Calendly , HireTrace etc.  In order to conduct video interviews, again there are number of tools you can use. Such as Microsoft team, Zoom, again HireTrace, etc. Besides, there are some interview tools and software that we may not be aware of yet, but they will arise the more we dive into the new realm. However, its the recruiter's responsibility to identify the most suitable tool which can satisfy the Companie's requirements and the budget. Because, if the chosen tools are going to break the bank, then it cannot be considered as following a smart trend.  
Especially due to the pandemic and the technological improvements of remote interviewing tools, remote interviewing has become a trend. Not only it makes the recruiter's life easier, but it also dilates the talent pool by allowing employers to hire the best and the brightest from around the world.   
Use of Analytics
Analytics can be considered as one of the most reliable sources to evaluate any process for better productivity. Regarding to recruitment, analytics can be used to interpret the progress of your recruitment workflow. So, it's really important to know what you can learn from those recruiting metrics.    
In a Smart Recruitment process, it is required to measure the performance of every stage. Then only you will be able to identify bottlenecks and eliminate them. There are different kind of KPIs available to evaluate recruitment productivity. Typically, companies choose to track the following recruiting metrics.  
Time to fill

: 

The number of days between getting the approval for a job vacancy and the acceptance of an offer by a candidate.

 

Time to hire

: The number of days between, when a candidate is approached and when they accept the position

 

Offer acceptance rate (OAR)

: Percentage of candidates who accepted your job offers compared to the total job offers given

 

Selection ratio :

The number of hired candidates compared to the total number of candidates evaluated

 

Cost per Hire

: The total cost invested in the entire recruitment process divided by the number of hires

 

Sourcing channel performances

: Measured by conversions per channel. Such as job boards, social media, external recruiters, etc.

 
Use of technology
AI-Driven Candidate Sourcing
With improvements to technology and increasing demands from the recruiters, today most companies use AI-based platforms. AI-driven candidate sourcing is being integrated into HR management, delivering better analyses, predictions, and decisions.    
It avoids unconscious bias by screening and shortlisting numerous applications accurately and in real-time. With AI you can attract the appropriate people, ask the correct questions, and make wise decisions about who will best fit your vacant roles. In order to make it do so, you need to decide what problem do you want to solve with AI and what goals you want to achieve.  
Chatbots
help of chatbots, candidates receive instant assistance in real-time. Other than that, they guide the candidate in providing the most relevant information. Especially chatbots are always ready to answer candidate questions at any time saving both candidate's and recruiter's time.  
Applicant tracking tools
Applicant tracking tools are smart business tools used to automate the entire recruitment process. At the same time, an applicant tracking tool allows recruiters to track every aspect of the process including candidate profiles. Using an applicant tracking system, like HireTrace helps to manage all the data about job candidates including their resumes, scores, interviewer's feedback and other information. Other than that, applicant tracking systems can reduce costs per hire by automating repetitive hiring tasks. Such as sending emails, collecting interview feedback etc.  
Virtual reality 
Virtual reality can be handy when evaluating candidates. A recruiter can build a real-world working environment virtually and ask candidates to  describe how they would handle the situation. Basically, the candidates will have to showcase how they can work /make decisions under the pressure. Especially in remote hiring, this will become useful to filter practical skilful candidates easily.  
Also, companies can use virtual reality to showcase their company culture. Which will be helpful when attracting top talent. 
Talent pools
A talent pool is a database of potential employees who are interested in working for your organization. It is the most effective method for proactive enlistment. You can keep track of them for future openings and contact them when they become available. Whenever you build this pool of talent, it can make your smart recruitment process more efficient and successful. Furthermore, maintain a talent pool is really hard but if you start dealing with the applicant tracking system that would be easy for you to select a qualified candidate. Just remember top talent stays on the market for a short time. So be smart within your system.  
Candidate Experience 
Today's recruiting is more focused on the candidate than it has ever been. As a result, it's no surprise that giving applicants a better experience during the hiring process will help you attract top talent, on the other hand a positive candidate experience will support the overall brand image.   
As we mentioned earlier most companies are starting to interest in smart recruiting trends due to the Covid pandemic, as well as the technical growth. This means companies use tactics and tools to increase candidate experience. Organizations will acquire candidates' trust and loyalty by providing a great candidate experience. 
Diversity plays an important role in recruitment. People with different backgrounds will bring diversity with them to the company or the business. When a company says they are hiring for diversity what they are really saying is that "It doesn't matter what background you have or what colour you are. We care about how you can support to grow the business". Most importantly this diversity will keep the workplace active and lovely and create an attractive working culture.  
Especially, the recruiting managers must establish procedures for periodic review of the diversity and inclusion initiatives and goals in recruiting. After a diversity initiative has been implemented for a period of time, the company management should resurvey employees regarding their perceptions of the company's efforts. Then only you can get the maximum benefits of diversity and inclusion. 
Employer Branding 
A strong employer brand is essential for recruiting the right candidate. According to the latest statistics, more than 75% of job seekers are consider the employer brand before applying for the job. The obvious reason is most of the candidates like to work for a company which is famous and has a high reputation. So, as a recruiter if you want to hire the best candidates you must start with building the company's brand.  
Building an employer brand must start within the company. Basically, management should maintain a healthy working environment for the existing employees. You need to make sure that everyone is treated fairly, and their effort is admired always. Then the current employees will spread good things about your company which will fulfil more than 50% of the employer branding objectives.  Then be creative and utilize other different media to talk about it. Such as blog posting, social media campaigns, hosting events etc. It's all about making awareness about the company and its cool culture. Ultimately it will reduce the effort that you need to put when looking for new candidates.  
Mobile recruitment 
With the rapid increase of smartphone usage, most job seekers are using their phones to apply for jobs. Statistics says, nearly 76% of job seekers have seen new career opportunities on mobile, 74% of company website career pages get traffic from mobile devices. So, as a smart recruiter you need to make sure that your company website, career page and job advertisements are clearly visible and usable on all kinds of mobile devices. Otherwise, you will be losing around 75% of candidates.  
Why Smart recruitment is important for companies
Alright, now you know what exactly smart recruitment is, and how to implement it properly. Let's talk about benefits. Let's see why smart recruitment is becoming very important for all the companies regardless of the size or industry.  
Cost per hire
Simply, cost per hire is a recruitment metric that calculates the amount of cost invested for a successful hire. This includes advertising expenses, external recruiter costs, internal recruitment team salaries, recruiting events costs, etc. Having a smart recruitment process will help you optimize these costs effectively. For an instance, if you are utilizing proper recruitment KPIs to evaluate the internal process, you can identify bottlenecks that causes unnecessary costs. OR having a talent pool will help you to reduce job advertising costs. 
Reduce time to hire
Smart recruitment tools like recruitment management software or ATS tools can help you to reduce the time to hire. Some of those tools provide options to automate common repetitive tasks such as sending emails to candidates, generating reports etc. Also using such tools, you can identify bottlenecks using KPIs they generate.  
Hiring right people for right seats
Without a doubt, this is the obvious and ultimate goal of any recruitment team. So, let's see how smart recruitment helps you to achieve this. When you use advanced techniques like virtual reality or AI to evaluate candidates, you can see how well candidates can perform during real working conditions. Also having good recruitment management software helps to evaluate candidates from different angles using multiple evaluation levels. One bad hiring decision can be extremely costly to your business.  
Why Smart recruitment is important for recruiters.
As a smart recruiter, you must adapt to the latest trends in the recruitment sector. Otherwise, other companies will capture all the good candidates while you are following legacy practices. Let's see the benefits of smart recruitment for recruiters. 
Easy to manage the recruitment process 
Recruiters are responsible for the full cycle of the recruiting process. This entails sourcing and screening candidates, coordinating the interview process, etc. Generally, they receive a huge number of applications for a single job post. This is where smart recruitment tactics like using an applicant tracking system will help you. Applicant tracking systems (or generally recruitment management software) are specifically designed to support recruitment process with a high number of candidates. Those tools provide different kind of features to make recruiter's life easy.  
Reduce the workload 
There are applicant tracking systems like HireTrace where you can automate most of the repetitive tasks. So, basically you can use those features to automate common tasks while you are working on doing critical tasks where human intervention is mandatory. Also, It is not replacing recruiters with the software but helping recruiters to do their job in a better, productive way. 
Conclusion
Finding top talent is not that much easy. Every decision in the process is really important and every decision should be pushing toward to finding the best talent for the company. If you want to bring them in, do something different and smart. Adapt to right tools and techniques to make it a very productive process. Finally, we would recommend you to at least start measure the recruitment process using KPIs, start using an applicant tracking system or a similar recruitment management software.  
 Such tools will give you an insight into the overall success of your recruiting process.  Just identify your targets, and work backward from there.