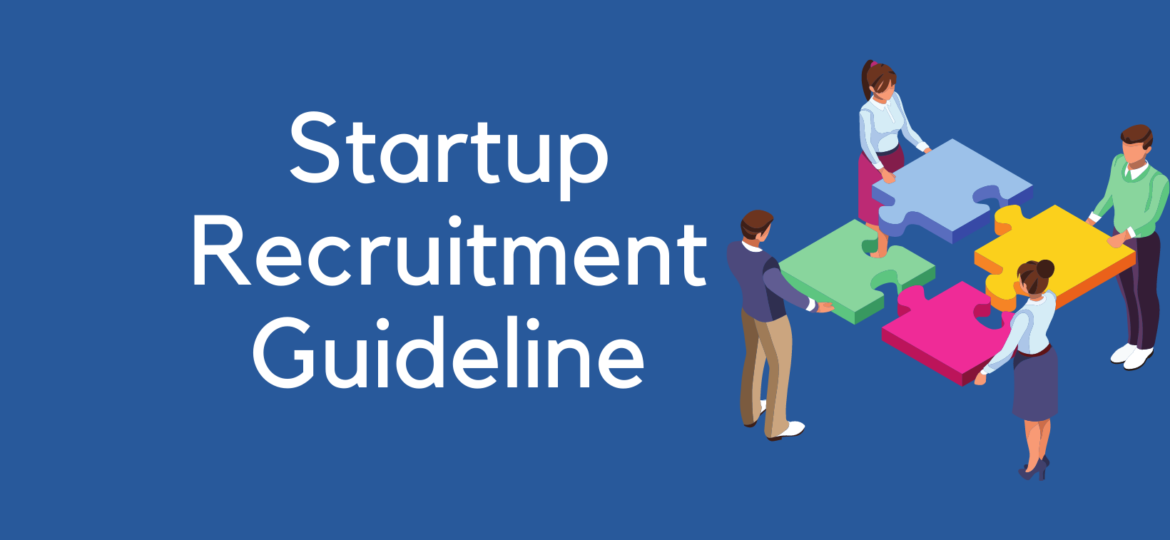 6 

S

tartup Recruitment

 Guideline: How to hire the right talent for your initial team. 
One of the most common challenges faced by most startup entrepreneurs is recruiting ideal candidates for their initial team. So, for startups, it is essential to make a significant time and cost investment during the recruitment. If you are a Startup founder, you must be creative with your startup recruitment strategy to find good candidates, especially if you're on a tight budget. In this article, we've outlined how to do startup recruitment properly and find the right talent to push your innovative idea forward. There are 6 main stages to follow one by one. Let's start.
1. Know the right moment to hire 
As a startup with or without a viable product, it is difficult to get funding at the initial stages. So, you'll have to do most of the tasks by yourself in the early stages to keep prices down. However, at some point, you will realize that your founding team cannot fulfil all the skills required to run the business successfully. That is when you need to start thinking about hiring someone else for your internal team as a part of the plan of your startup recruitment process. If you have the required financial capacity, don't be scared to employ someone for important tasks that are outside your expertise. However, there are some other options you can consider before hiring for the internal team. Such as below.  
Freelancing: If you only need temporary assistance for a short period, getting a freelancer will be ideal. There will be affordable payment plans such as pay per hour or by task. Some of the cons of having freelancers are lack of supervision and unpredictable quality of work. However, it is fine to hire freelancers for tasks such as SEO, Quality Assurance, UI/UX designs, etc. For long-term commitments, freelancers are not ideal. 

 
Outsourcing Talent: If hiring freelancers is not an option, it's time to consider outsourcing. Some processes that can be outsourced are finance, human resource and payroll, recruiting. At the early stages, it is good to outsource them if you don't have such specialties.  

 
Outsourcing Project: Outsourcing Projects saves you money on everything from benefits to training by allowing you to avoid hiring new employees to do the task. As a disadvantage of outsourcing, you may risk sharing your new concepts with outsourcers. because they can leak your sensitive business data or concepts. Also, this is not recommended in most cases, because the startup itself should have full control of its product and it is hard to implement lean product development strategies with this approach.  

 
2.

Set your 

S

tartup Recruitment

 Goal 

 
After considering other options and still, you are willing to hire someone for the internal team, your next step should be to set up recruitment goals.  
Here are some of the startup recruitment goals that you should consider:   
Identifying and determining the level of expertise required for the role: Depending on the job role level of expertise will vary. It can be either an entry-level or senior level. Therefore, as a startup founder, you should be able to identify the required expertise. 

 

Determining the employment period: You should identify and determine if a job requirement is a short-term or a long-term requirement. Depending on the projects and the job function within your startup, the employment period may vary.  

 

Figuring out the cost per hire: With the right analysis, you can obtain a lot of knowledge into the company's profit and loss and figure out what's working and what's not. You can keep track of overall hiring costs by figuring out the cost-per-hire. The metric illustrates how much a firm spends to hire a single employee. 

 

Improve employer brand value: A strong employer brand attracts applicants by instilling trust in them, which in turn increases the number of applications and allows for the best talent acquisition. As a part of the 

startup recruitment

 process improving your employer brand is important for you to attract top talent.  

 

Determining the budget and salaries: This is one of the main goals that you should consider as a startup founder. It is all about assigning salaries for the different job roles that you need. We will be discussing more on setting up a startup recruitment budget and salaries in our next segment.  

 
3.

Focus on your 

S

tartup 

Recruitment

 Budget 

 
When creating a recruiting budget, many factors need to be considered, including available funding, the number of hirings required, level of expertise required, expected employment period and urgency of hire much more. You'll be better able to tailor your startup recruitment strategy if you figure out how much you need to spend on different areas of the recruitment process.   
Consider the following items when allocating the recruitment budget:  
Salary: One of the most important types of cost that you need to consider when recruiting. You need to identify the amount of salary that you are supposed to pay for your new hire depending on the role, skills and experience.  

 

Job boards and Advertising: This category comprises all costs related to advertising your available position and recruiting candidates. Every job board, as well as any of your company's paid recruiting accounts, should be included.  

 

Employee Benefits: Employee benefits are any perks provided to employees in addition to their wages or salaries. Vacation and time off packages, healthcare and insurance, housing or transit aid, retirement packages, and other bonuses and benefits are all possibilities. In-office facilities, etc. 

 

Hiring tools: You may need to consider using software that helps you to ease your recruitment process. In that situation, you can use an affordable Applicant Tracking System (ATS) such as 

HireTrace

, which allows you to streamline your hiring process.  

 

Required Office Space & tools for the new Hires (laptops, monitors etc.): Depending on the job function you need to understand if you should provide them laptops, monitors, internet facility and specific software etc. related to the job function. Also, you should consider if you can allow your employees to do remote work. Especially if you are at the early stage of your 

startup recruitment

 process and have very few employees and if the work can be done from home, you do not need to have an office space. If you are considering to have remote work you should be able to provide employees with facilities such as the internet.  

 

Training: Depending on the requirement of your company the training required may vary. Therefore, the cost associated with the training also may vary. Hence, do not forget to include training costs when recruiting new employees. 

 

Onboarding: The time it takes to handle the completion of the paperwork and other administrative components of onboarding is the true cost of onboarding. There are many Recruitment Management Software on the market that can consolidate all administrative processes related to the hiring process into a single system allowing employees to self-serve. 

 
One other fact that you need to pay attention to is the amount of runway you have left. The term "startup runway" refers to how long your company can operate before it runs out of cash. Throughout the lifecycle of your business, a startup runway is an essential tool for budgeting, strategizing, forecasting, and fundraising. How long can you last at your present cash burn rate before you run out of money? Also, determine your annual recruitment plan and include the above-mentioned points in your budget. Do not consider allocating budget on the above-mentioned areas as an expense instead consider it as an investment.  
4.

Know your Legal Requirements related to employees/hiring 
As an important fact for startup recruitment, make sure you're familiar with the employment laws in your region and at the federal level. You may unintentionally expose your company to major consequences if you don't have written policies and procedures in place for your employees, such as discrimination or unequal treatment allegations.   
5.

How to write a proper job description for your startup? 

 

 
Recruiting is a highly competitive field. Writing a strong job description is a crucial step in attracting the ideal individuals to apply for your job openings, as it communicates the type of person you're looking for as well as the responsibilities and tasks the job requires.  
Here are things that you need to mention in your job description:   
About the Company: Give a small introduction to your company. You should mention that your company is a startup. You can mention about future rewards of working for your startup company.  

 

Job Function: Make the job functions simple and clear, so stick to industry terminology. Write a three- to a five-sentence overview of what the candidate will do in their new position. The finest job descriptions have a clear image of what the function entails on a day-to-day basis.

 

Required Skills: Include points that a candidate must have in order to be successful in the position they are applying for. Include years of experience, education, certificates, and required platform knowledge. If you have any other desirable skills, list them here as well. 

 

Deadline for applying and Call to Action: Do not forget to include the deadline of the application process. Make sure that it is very clear where a candidate should apply.  

 
6.

S

tartup Recruitment

 Process 

 
After making a proper job description now you are ready to follow the next steps in your startup recruitment process. Let's see how we can use the following guidelines to ease your startup recruitment process.
6.1 Sourcing: 
You can identify suitable candidates by asking friends and coworkers for recommendations, searching on social media, or engaging with recruiters. Social media platforms such as LinkedIn and Facebook are really useful platforms to source your candidates. Proper use of these tools will allow you to find your ideal candidate.   
Here are some Candidate Sourcing Tips for Recruiters:   
Start with a Candidate Persona: An ideal candidate persona aids in the selection of the appropriate skills, and strategy for attracting more qualified candidates. Creating a candidate persona is a multi-step 

collaborative process

, you'll need to consult with your team, recruit managers, and conduct some research before settling on one. 

 

Establish a Referral Program: A source's finest source of new talent is typically current employees. Internal recommendations have long been a staple of recruiting sourcing tactics, and for good reason. Every employee in your company has their own network of friends and personal and professional connections. It would be a huge mistake if you didn't take advantage of it. 

 

Use Digital Marketing for Job Advertising: Digital Marketing will be highly useful for sources and recruiters of talent. Out of it one of the most popular platforms for identifying talent is LinkedIn and Facebook. People will be able to share your post on their personal social media accounts too. This will also help to enhance your employer brand as a startup. Also, you can improve your career site to attract more and give a good candidate experience.  

 

Work with external recruiters who specialize in startups: A recruiter who specializes in startups can connect you with qualified applicants. 

 

Career Fair events: Potential candidates usually attend recruitment events especially for the career fair events by universities. This might be an excellent place to start your employee search and provide you with an opportunity to promote your company. 

 
6.2 Shortlisting: 
Shortlisting is the process of selecting applicants from sourced candidates who best fulfil the needed and desirable criteria and who you want to forward to the next stage of the startup recruitment process. Here are two important facts to consider to shortlist candidates successfully.  
Determine the criteria: You must determine the essentials and desirable aspects of the position you're hiring for. The essential criteria are those that must be met in order for an applicant to be considered for the position. The desirable criteria, which would make someone a better contender for the job, are frequently seen as nice-to-haves.  

 

Blind the Resume Review Process: This ensures that you are concentrating on your candidates' skills and relevant qualifications rather than generic demographic traits. This will help you to 

avoid unconscious bias

. 

 
6.3 Interviews: 
Initially, the task of hiring and interviewing people for your startup is usually left to the founders. Here are some tips that will be useful for conducting interviews at your startup:   
Consider the number of interviews required depending on the job role. As an example, an interview with a technical team and an interview with the human resource team might be necessary to select a candidate for a technical role.  

 

Use an ATS to send out automatic email notifications, which relieves you of the responsibility of keeping everyone informed. 

 

Structure your interviews to prevent unconscious bias. Provide interview preparation materials and evaluation criteria ahead of time. 

 

During the interview, you should ask the candidate if he/she is willing to work for a startup and check if the candidate fits your company culture. 

 
By carefully using these steps for the interviews within your startup you will be able to have a smooth interview for your startup recruitment process and hire top candidates.  
The startup recruitment process must be done carefully and each candidate must be thoroughly evaluated. Many people miss out on talented individuals because they were rushing to move on to the next prospect. After going through all these stages carefully you need to make the hiring decision for your startup. This is one of the critical steps in your whole startup recruitment process. These hired candidates' potential and performance will highly affect the overall function of your startup. Therefore, you need to make the right hiring decision.  
Conclusion
Startup Recruitment is a challenge, to overcome it as an entrepreneur you need the right plan and strategies. It's required to have proper steps and those steps must be right for your company's requirements and your candidates. We have brought to you step-by-step guidelines ranging from the moment you decide to hire until you make the hiring decision so that you can make your start-up recruitment process a success. If you follow these proper guidelines, you will be able to be successful at your startup recruitment.