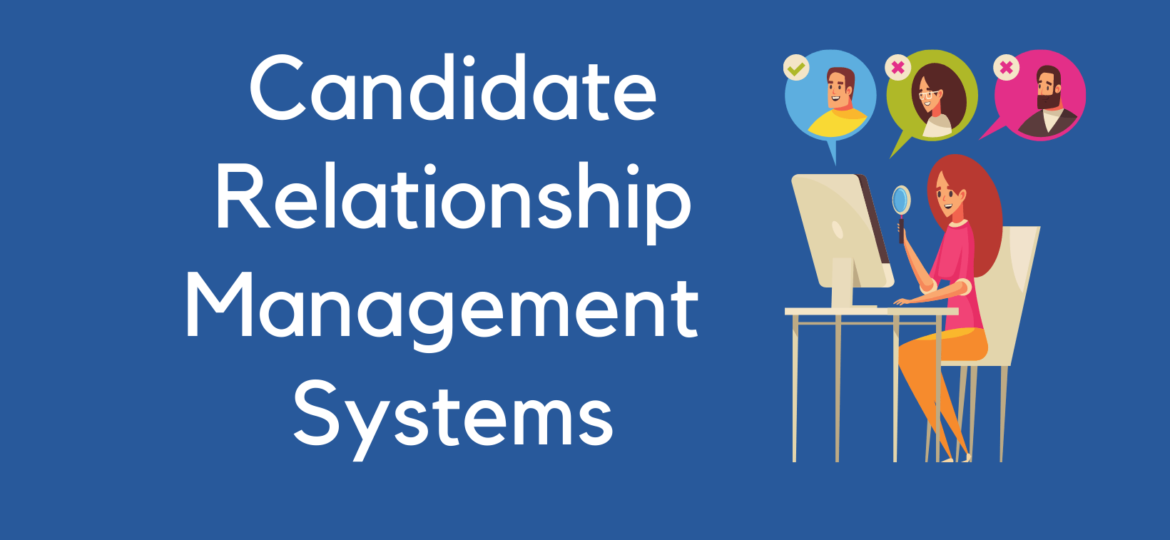 Candidate relationship management systems explained
1. What is candidate relationship management?
Candidate Relationship Management can be defined as the maintenance of healthy and successful relationships with all the past, present, and potential candidates.  CRM is the short term used to refer to Candidate Relationship Management in the corporate environment. Possessing an up-to-date talent pool through candidate relationship management positively influences the organizations as there will be quick access to the talent whenever a need arises for new employees. The recruitment process is increasingly becoming difficult and the corporates are forced to follow approaches like CRM to improve their efficiency in finding the right employees. 
Engaging in candidate relationship management in an active way as a recruiter leads to attracting more candidates while boosting the brand as a friendly employer. With the developments in the labor market, candidates in the contemporary world are adopted to seek jobs that are well-suited to their qualifications and talents rather than settling for ordinary jobs in the market. 
Candidate relationship management is the best mechanism to understand and fulfill candidates' goals as it suggests the best job opportunities available according to candidates' expectations. 
2. Why is candidate relationship management important?
Recruiters use this candidate relationship management more often as a definition for the candidate experience created by them. This term encloses the experiences encountered by the candidates during the interaction with the recruiter or the employer during the entire recruitment cycle. Candidate relationship management helps in creating a talent pipeline to improve the efficiency of the recruiting process. 
A talent pipeline consists of active candidates, passive candidates, and former candidates. Former candidates are the candidates who have not worked for the employer in the past, but the ones who have the capacity to work in the future. At the same time, talent pipelines include full-time employees, hourly candidates, remote workers as well as gig workers.
Having a proper tracking system on the current employment status of each and every candidate is very important in candidate relationship management. An advanced candidate relationship management strategy has the ability to categorize the potentials in candidates under different job fields. As an instance, if a certain candidate has excelled in marketing, he will be categorized under marketing professionals to give a better opportunity to involve him in jobs related to the marketing field. Recruiters are also benefited from this categorization as it makes it easier for them to identify suitable candidates for corporate marketing and employer branding efforts in a direct manner. 
3. What is a candidate relationship management system? 
A Candidate Relationship Management system is software that manages the process of building and maintaining efficient relationships between recruiters and candidates in order to facilitate best fitting selections. Every hiring professional always prioritizes providing positive and valuable experiences for the applied candidates and a CRM system supports to achieve that goal.
The Candidate Relationship Management system is made up of five key functions. These five key functions can be identified as to discover, attract, engage, nurture and hire.
3.1  Discover
At the first stage, the system conducts a quick check of all the applications that have been received through emails, job boards, career pages, and recruitment agencies, web pages, and social media platforms like LinkedIn. All the data from these channels which are received from the applicants are safely stored in a CRM system and this helps in selecting the most appropriate employees for the relevant job fields.
A well-developed CRM system software is able to notify former candidates who did not grab the job opportunities in previous cases as soon as there are new vacancies available for similar positions. It is also capable of suggesting passive candidates in order to give them the chances for future job openings.
On the other hand, this type of CRM system should be capable enough to record all the interactions with the candidates who have been selected. Recruiters give priority to the most talented candidates when they go through the selection process. A broad and updated talent pool in CRM software always allows them to access the best talent first by ranking them and contacting the candidates in a short period.
3.2
 Attract
A company runs on the skillfulness of its employees. But greater efforts are required to attract the top talent in a competitive business environment. This second stage in the candidate management system also helps in promoting the employer brand through means of showcasing its reputation through corporate social responsibility initiatives, and new hires. This stage is more significant in improving the passive talents of the candidates through recruitment marketing strategies. 
3.3  Engage
 The engagement strategy comes into action after filtering the fittest and interested candidates. This third function in the CRM software system includes company updates, regular communication, and streamlined data analysis to enhance efficient engagement in recruiting.  The engaging phase also does the function of sending feedback to the candidates on their selection status by providing them guidance to build up their missing skills if they are not selected.
An advanced Candidate Relationship Management system should be equipped with email templates to address any step of candidates' journey. This includes the main steps in the recruiting process such as applying, interviewing, and selecting candidates.
Encouraging continuous candidate engagement is a key feature in the CRM system.
3.4 Nurture
The main objective of the fourth function is to pay special attention to all the applied candidates' best interests by giving them opportunities even in the future. Regular awareness mails on skill development, the latest job updates of the employer companies, and sending wishes on the birthdays of these candidates will help in continuing a positive relationship with the potential candidates. 
Nurtured actions which concern the well-being of candidates will strengthen the relationship between employer and employees leading to improvements in the employer brand as well.
3.5 Hire
The nurtured leads are now in a good condition to be hired as soon as the need arises. A nurtured relationship has already strengthened the understanding between the candidate and the company making the next steps easier. All the efforts that are concentrated into the development of a better employer brand through the CRM system will help in finding the fittest employee at a low cost. 
4. Applicant Tracking System VS. Candidate Relationship Management system
Applicant Tracking System 
An applicant tracking system is often associated with the management of the application process. ATS can be recognized as a compliance requirement and this contains all the detailed reports about candidates which helps in increasing the efficiency of the recruitment process.
Candidate Relationship Management System 
The candidate relationship management system mainly focuses on job seekers and candidates.  CRM systems help in creating talent pools and building positive relationships with potential employees. 
In brief, ATS is a compliance tool to manage applicants while CRM is a complete talent pool with active, passive, and former candidates who have applied for positions in the company. There are ATS like HireTrace which have CRM features integrated into them.
5. Benefits of a candidate relationship management system
There are several benefits in using a CRM software system to accelerate the efficiency of the recruitment process. Candidate Relationship Management systems help massively in managing candidate pipeline, expanding talent channels, and maintaining passive candidates
5.1 Managing candidate pipeline
A candidate pipeline is constantly changing with the arrival of new candidates and the allocation of new job opportunities. Adding more qualified and talented applicants will help in reaching the best candidates that suit the arising job vacancies. 
The candidate relationship management system helps in creating a continuous inflow and outflow of candidates in an easy way. CRM system contributes to coordinating and maintaining connections with all past, current, and future candidates while speeding up the recruitment process. Recruiters can benefit significantly from the option to identify all candidates' levels of capabilities through different indicators by categorizing the candidates depending on their education, skills, and experiences through this system.
5.2 Expanding talent channels
Candidate relationship management systems enhance the way that businesses use recruitment channels. Job posting boards, social media platforms, and web pages are some of the active sources to gather quality candidates. Recruiters need to maintain meaningful interactions with candidates in order to reach the best-suited employees to the employee-seeking companies. To accomplish this objective, recruiters can follow creative approaches to recruitment sourcing by using the CRM system. 
Expanding talent channels in the CRM is often beneficial in attracting potential candidates who will expand the talent range in candidate pools. Candidate Relationship Management systems can expand talent channels and develop candidate relationships in a vibrant way.
5.3 Maintaining passive candidate records
Passive candidates can be defined as the ones who are not actively engaged in seeking job opportunities. But, passive candidates are the main sources of success in the recruiting process. According to a LinkedIn research report, 68% of employees in the world are considered passive candidates whereas only 32% of employees are actively looking for a job.
Passive candidates serve as a greater asset to the industries that require specialized skills. An advanced Candidate Relationship Management software will help in maintaining the count of passive candidates as it has tracked efficiently on candidates' special talents and expertise. A CRM solution also helps in organizing and categorizing qualified candidates in the recruiting database.
6. How to identify a good candidate relationship management system?
There are a number of features that should be taken into consideration before investing in a candidate relationship management system. Some of them are candidate profile creation, automated workflow, talent pool creation, integration with ATS, and cross-device functionality.
6.1 Candidate profile creation 
The CRM system should provide you the facility to create a candidate profile based on all his/ her data and interactions with the recruiter. This candidate profile includes informing emails, offer letters, assessments, and all types of communicated information with the candidates, recruiters, and companies. A good candidate relationship management system must have the feature to share the candidate profile directly with an external client if you are from a staffing agency.
6.2 Automated workflow
The ability to run the workflow automatically is another good sign to recognize an effective CRM software. It should be able to automate the process of sending personalized notifications to the candidates from the stage of uploading resumes to the final stage of selecting the well-suited candidates.
6.3 Talent pool creation
A good CRM system will allow you to create different types of talent pools under specific specializations of the candidates who have applied already. These categorizations will be under different roles, departments, and organizations.
6.4 Integration with ATS 
Any CRM system should be able to cooperate with its ATS system to get the best outcomes of an automated recruiting process. This will help in categorizing existing candidate data in order to organize them into specific job fields.
6.5 Cross-device functionality
There are some automated software platforms that do not perform the same functionality on mobile devices as they used to do on computer devices. Therefore, a better Candidate Relationship Management system should be able to perform cross-device functionality in both computer devices and mobile devices. Having a mobile app always helps in the fast access to the CRM system and it is a must for a CRM to be mobile responsive. 
7. How to know if you need a Candidate Relationship Management system? 
There are several indications that help in deciding that you need a proper CRM system in maintaining efficiency in the recruiting process. You need to use CRM software if you are already stressed with any of the following problems 
7.1 Actively sourcing candidates 
Traditional recruitment techniques communicate only with the candidates who have applied for a certain position. It hinders the opportunity of a business to create a talent pool which helps to improve the quality of the hires. A good CRM software resolves this problem with its ability to keep in touch with the past, passive and current candidates. CRM allows you to build up new relationships conveniently with candidates in order to reach the maximum efficiency of recruiting.
7.2 Use spreadsheets to manage candidate data
Have you used a number of recruiting systems to manage candidate data in an effective way and have not found a better solution yet? CRM software gives you the best solution to resolve this problem by providing you with an efficient data storing system.
There are several recruiting systems that track candidate data with different tools starting from sticky notes to Outlook tasks where spreadsheets are the most commonly used tool. Spreadsheets are most suited to complete accounting purposes rather than for recruiting. You will have to update everything manually when you use spreadsheets and this will negatively affect the purpose of maintaining candidate data records. Using an excellent Candidate Relationship Management system will positively influence the efficiency of maintaining proper data records about the candidates in the talent pool of the company.
7.3 Waste a lot of time on the recruitment process
Are you distressed by the time-consuming recruiting process? 
Candidate Relationship Management software will provide practical solutions to this problem. Almost all legacy recruitment software systems and traditional methods require a lot of attention and time to function in a proper way but do not consider building long-term relationships with the candidates. 
Modern technological developments including CRM systems and ATS like HireTrace which has CRM features in them automate the entire recruitment process while keeping in touch with the entire talent pool of the company. 
7.4 A large amount of candidate data stored in your ATS
Is your company being applied by a large number of candidates over the years? Then you might have a large amount of candidate data stored in your ATS. A CRM system increases your opportunities to use these data for your benefit. 
Having your ATS  integrated with a CRM system will help an organization to make the best use of the candidate data available by building close relationships with its talent pool irrespective of the amount of data collected over time.