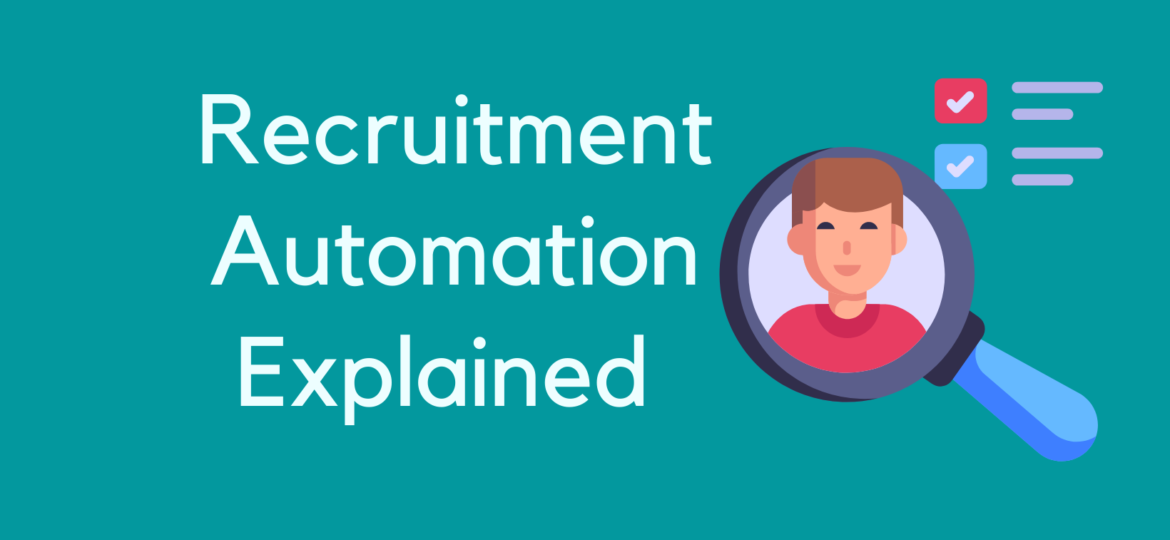 Recruitment automation explained
1. What is recruitment automation? 
Recruitment automation can be introduced as a sector of technology that helps companies and organizations to automate recruiting tasks and workflows to achieve efficiency in time management, cost management, recruiter productivity, and overall talent profile. Recruitment automation is an element that comes under Human Capital Management (HCM) which is an enterprise software utilized to manage and develop all the functions related to the human resource management of a company.
2. Why is recruitment automation important?
The competitive advantage is what keeps a company ahead of its rivals. Recruitment automation technology assists massively in increasing the competitive hiring advantages of the companies. Almost all the companies in the modern world are looking to reach the climax in their fields within a short time by spending a low amount of resources in relation to the goals they target to hit within a certain period. 
To become successful in that mission, all the companies are searching for new tactics to boost their income efficiently by replacing the conventional methods of managing a business. Recruitment automation is one such strategy that helps businesses to improve in the aspects of time, finance, and quality with the assistance of the latest technology. 
2.1 Sourcing and engaging with the candidates 
Recruitment automation technologies are widely used in the world for candidate sourcing and engagement to fasten the hiring process. To describe in detail, recruitment automation makes it easier to identify passive candidates and effectively engage with them. This technologically advanced system can accumulate and analyze data on each of the candidates' experiences and skills to provide them with the top matching job opportunities. Candidates are benefitted from prompt responses and job opportunities through this automated system. Applicant tracking systems like HireTrace are the best partners in automating the recruiting process to provide a trustworthy and effective contribution to sourcing strategies and engagement strategies for a company operating in any industry.
2.2 Screening candidates 
Candidate engagement technologies support automating candidate screening and updating applicant progress while improving the technology candidate experience. Also, this enhances the number and the quality of the job opportunities offered to potential employees.
ATS can read the job descriptions presented by the recruiters and scan through received CVs to find the candidates that suit the best for the available opportunity. This software browses through the academic qualifications, work experience, and skills of the candidates and ranks them according to their suitability for the position. 
Automated communication engines help in facilitating the candidate with coherent and fast solutions to all their problems in relation to the recruitment procedure. An automated recruitment process will save more time and develop candidate satisfaction to a greater level as the screened-out employees will be notified immediately. 
2.3 Scheduling interviews for candidates 
Interview scheduling is a major concern for any recruiter as it consumes a great deal of time and effort. Nowadays, the interviews are easily being fixed into the most convenient and suitable time schedules with the help of recruitment automation technologies. The system will send a detailed email notification with the calendar event to make sure the candidate does not miss the opportunity. 
 Interview scheduling is an advanced task as it consists of many interview formats including one-to-one, panel, sequential, batch interview, and group interviews. But with the support of automated technologies, everyone can schedule the most convenient time slot to go through their interviews successfully. 
2.4 Assessments and Background Checks 
Evaluation of the candidates to confirm their suitability to a company is a challenging task.  Automated software helps the recruiters to identify the top talent to aid the companies by using tests and checks which ensures better hires.
And also these systems are facilitated with better-automated interview processes to identify the required talents to match the demand of the recruiting companies. 
Background checks are also conducted through the recruitment automation systems to ensure that the entity is selecting the most suitable candidates. Automated functions such as assessments, interviews, and background checks will lead to greater efficiency in the whole recruiting process.
2.5 Candidate Marketing Management 
Candidate Marketing Management and Recruitment Marketing always go hand in hand when it comes to maintaining relationships with the candidates.  The combination of these two methods gives a positive impact on relationships between candidates and companies to exchange recent updates. This is highly in contrast to a conventional interview process where the candidates have to wait for a long time to receive updates and feedback.
2.6 Applicant Tracking Systems (ATS)
Applicant Tracking System is a software application with artificial intelligence which helps in improving the efficiency of the interview process. HireTrace is one such  ATS software to enhance both candidate and recruiter experiences.  This system automates all the stages of the recruitment process from sourcing to onboarding. 
ATS allows the recruiters to post job advertisements on several platforms at once. Then the ATS will scan and rank the received CVs which will be the initial screening of the candidates. An automated recruitment system will also schedule interviews and notify the candidates of the scheduled slots as well as the progress from their interview. Therefore, it can be concluded that an ATS improves the efficiency of the entire recruitment process. 
2.7 Candidate Rediscovery and Ranking 
Candidate Rediscovery and ranking is another vital aspect of the recruitment procedure. The success of every company and organization mostly relies on the skills of the employees working for them. Therefore, officials in the employer selection board should pay greater attention to each of these candidates' capabilities beyond the technological skills. Therefore, Candidate Rediscovery and Ranking help to go through the list of suited candidates again and again to select the best candidates for the relevant job fields. 
This system allows the recruiters to understand who has applied and their rankings according to qualifications in a more coherent manner by reading the reports through ATS.
3. What are the benefits of recruitment automation? 
3.1 Improving the quality of hire
Quality of hire is one of the greatest benefits of recruitment automation. Recruitment automation improves the quality of hiring by prioritizing the requirements of the recruiters and candidates. There are several ways to measure the quality of hire and some of them can be named as retention, time to fill, hiring satisfaction, ramp-up time, job performance, and employee engagement.
When we look into these qualities of hire metrics in a more descriptive way, retention is the duration of time which new hires keep remaining in the company while time to fill in the time a person is spending to apply for a job vacancy in the relevant company. Hiring satisfaction is measured by the satisfaction of hiring managers by providing them numbers from 0 to 10 to vote. 
At the same time, ramp-up time indicates the full productivity of employees while job performance is measured by objectives like sales, achievements, and performance ratings of officials. Recruitment automation improves the quality of hiring throughout all these indicators as it allows thorough selection and filtering options without a hustle. The quality of these indicators often affects the ratings of the recruiter. 
Recruitment automation software is connected with performance management software to achieve accuracy and efficiency in the recruitment process. Recruitment automation can provide the most accurate data for analytical reports to improve the quality of hiring by avoiding past faults. The recruitment software also offers better ways to improve the quality by offering customized suggestions while conventional recruitment is based on a regular function.
3.2 Reducing the cost to hire
The total cost of hiring for one position in the organization is referred to as the cost per hire. Manual recruitment is a slow but money-consuming procedure as recruiters have to screen and inform the candidates manually by themselves. This makes recruiters go for automated alternatives. But many standard recruitment software has expensive costs and have to spend a large sum of money for its maintenance and administration to continue with the required options. And also, users are required to pay additional license fees each time when a new upgrade arrives. It increases the additional service costs for the customer company. 
But, using a cloud-based recruitment software such as HireTrace will be more effective due to its fair and affordable service charges. You can derive many benefits in relation to the efficiency of the recruitment procedures and spendings related to hiring tasks. 
The companies who adopted the recruitment software reported that their cost per screen decreased by 75% and turnover reduced by 35%. Therefore, recruitment automation also leads to indirect cost savings. 
3.3 Reducing the time taken to hire for a position 
Every company and organization always attempt their best to employ the most talented staff. With the use of automated software, you have the opportunity of choosing well-suited and talented candidates for your companies and organizations in a short period.
Recruitment automation is developed to improve the time management of both candidates and recruiters. When it comes to the work efficiency of candidates, this automation helps in applying and submitting their CVs using digital sources while creating a rich communication process between candidates and organizations. This automation is more successful than spending a lot more time on manual applying and submitting processes. Fast accessibility to companies enriches the trust of the candidate towards the hiring companies.
The creation of talent pools will help companies to identify new talented candidates and to keep in touch with them whenever their companies have vacancies for new employees. Fast access to the talents will help them to reduce the extra time allocated to the hiring process. 
3.4 Improving productivity
Enhancing productivity is the ultimate goal of every company. With the development of technology, many companies in the contemporary world have used to work with automated recruitment software. Companies use automated tools to make their work productive and research asserts that 80% of the executives believe in the positive improvements of productivity through recruitment automation.
As a result, every task from applicant tracking to screening applicants has been automated. Automated processes have almost eliminated the unnecessary time wastage such as interview scheduling and candidate contacting.  Recruitment software can mitigate many manual recruitment issues which helps the firms to stay productive.
Accessibility to recruitment automation software using mobiles is also a positive impact as it paves the way to reach the relevant companies at any time. It improves the productivity of the recruitment by creating efficient relationships with the candidates. 
3.5 Improving collaboration
Collaborations are big leaps in a company's journey towards success. The recruitment process needs multiple officials to make the process more effective. Recruitment automation allows a number of officials to collaborate in accessing candidate profiles, updating profile contents as well as providing feedback. 
It helps in performing the stakeholders' duties more diligently. This automated software always improves collaboration among officials while making their duties easier and fast.
3.6 Streamlined data collection
Recruiters need to track and store every little detail including in the candidates' CVs. Collecting all the details of candidates into either an email folder or a spreadsheet seems to showcase less security. But, with the emergence of recruitment automation, recruiters have the possibility to collect all data in one place. This can be defined as the streamlined data collection method. 
In this streamlined data collection method, you have the ability to access and organize all candidates' data whenever you require them. Interconnection with different social media platforms and automated recruitment tools will help in updating data, sending information, and tracking on performances of recruiters with a single click.
3.7 Better candidate experience
Recruitment automation influences positively on experiences of candidates in the same way it does for officials in companies. When it goes to the conventional way of applying to jobs, candidates have to face a lot of problems in applying such as postal delays. At the same time, it takes a long time to inform candidates on the status of their applications as they have to communicate mainly through post mails. This causes the candidates to wait for a long period to get updated on a job. 
Automated recruitment software applications like HireTrace give solutions to all these manual issues by introducing digitalized automation of tracking the progress of job applications. Automated tools supply many facilities for the convenience of candidates including generating personalized emails on their CVs' progress. 
With the emergence of automated recruitment software, you do not have to wait for a long time to get an update, you are facilitated to transfer to the next steps according to your qualifications and skills.
3.8 Minimizing paper works
Many people from earlier decades used written methods to manage their daily tasks in companies. But with the development of technology, computers, and other electronic devices arrived with many automated facilities. Written documents often can be misplaced while storing and damaged due to different types of physical and natural threats. Automated software always makes all documents in a typed format which is more secure and safe in an electric device. 
Digitalizing all important documents in a company will help in reducing the use of printed documents. A paperless background will reduce the working stress of the employees while making their working environment alive. Improvements in audit trail is another benefit of a cloud-based system. Reducing paper-based works will enable the monitoring of different business units easily within a short time.
4. Debunking myths on recruitment automation 
There are many myths set about recruitment automation that avoid people to go for these new and digital technological updates. Some of these misconceptions include the idea that recruitment and artificial intelligence are the same, recruitment automation will take over jobs and only a few companies will leverage automation in HR.
Recruitment automation and AI are the same. 
To begin with, recruitment automation and AI are two different topics. The simple reason for that is recruitment automation helps HR professionals to handle repetitive tasks while AI helps them to handle non-repetitive tasks. 
Recruitment automation cut off job opportunities. 
People believe in the misconception that technological automation will only eliminate job opportunities. But the truth behind this misconception is that technological automation is used to eliminate exhaustive tasks to ensure that recruiters have enough time to keep efficient connections with candidates. In reality, recruitment automation always helps in achieving efficiency and success together as companies. 
Not all companies can benefit from recruitment automation. 
It is a widely spread misconception that only a few companies will reap benefits from automation in HR. The truth behind this misconception is that there are many worldwide companies and organizations involved in recruitment automation to continue the efficiency improvements of their tasks while enhancing the company's recognition in the contemporary job market. 
Therefore, recruitment automation creates positive impacts on the performance of the businesses through improving the quality, time, and cost efficiencies of hiring despite the common misconceptions perceived by a minority.